atlas shrugged was published.

happy birthday!
50 years ago,
http://www.pretorianews.co.za/index.php?fArticleId=3894209
"The cable crisis is not unique to South Africa. Record prices for copper and other metals have led to an upsurge in theft and associated disruption in many other countries, ranging from the US and Britain to Vietnam, said Rens Bindeman, a consultant advising South African authorities on how to tackle the problem."
The letter informed the leaders of the Executive and Legislative branches of the federal government that up to 100 people in "V" masks and clothing would gather in silent vigil at those locations on November 14th to await a response to the Petitions for Redress.
True to his word, at 11:00 A.M. on Tuesday, November 14, 2006, nearly 100 men and women in "V" masks and clothing could be seen walking along different streets in downtown Washington, DC, all heading to Lafayette Park across Pennsylvania Avenue from the White House.
By high noon, the "Vs" were facing the White House, in formation. Some were holding a 40-foot by 25-foot banner that read, "Dear Government…No Answers, No Taxes." Four were holding smaller signs that read "Obey The Constitution – The Right To Petition."
They waited about one hour for a representative of President Bush to approach them with some response to the Petitions.
Read More:
http://www.givemeliberty.org/RTP2/UPDATES/Update2006-11-18.htm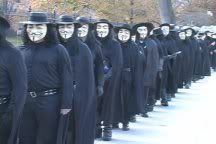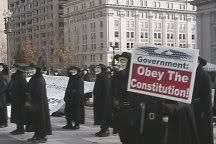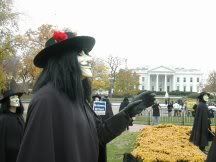 On November 6, 2006, a lone man in a "V" mask and clothing visited security checkpoints at the White House, the main Treasury Building, the Department of Justice and the Capitol, to deliver a letter and the Petitions for Redress. A short videotape of the encounters has made its way around the Internet, including links from sites such as MySpace.com.
The Angelina Jolie starrer, "Atlas Shrugged," may not become the ambitious trilogy initially proposed ala "Lord of the Rings" after all, reports co-exec producer Karen Baldwin.
In the debate over legalizing marijuana an angle that is not often talked about is relationship between incarcerating thousands of non-violent offenders and the prison labor industry.
It is simply stunning to see what private enterprises have accomplished in the past few years in regards to space exploration and development. The X-Prize has set into motion a new space race to be accomplished by private companies instead of governments. It took our government something like eight years and several billion dollars to simply hurl a monkey into space. Private companies have taken the reins and in a total of about ten years will have regular trips to and from space paid for by tourists. There is a burgeoning space elevator business being setup. They have